POSTPONED: Conversations that Challenge: Gary Younge

This event – scheduled for Thursday November 2nd, was cancelled as Mr. Younge could not get to Plymouth from London as all trains were cancelled in the storm. We plan to reschedule for early in 2024 – look out here for details.
Mr. Younge was due to be joining us to discuss his new book – Dispatches from the Diaspora: From Nelson Mandela to Black Lives Matter – at the Barbican Theatre, Plymouth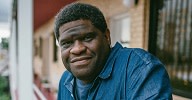 Gary Younge is an award-winning author, broadcaster and professor of sociology at the University of Manchester. Formerly a columnist and an editor-at-large at the Guardian, he is the author of five books, including Another Day in the Death of America (shortlisted for the Orwell Prize and the Jhalak Prize) and the recently published 'Dispatches from the Diaspora' a collection of journalism on race, racism and black lives and deaths.
These events are part of our Conversations that Challenge Series to mark Zebra's 20th Anniversary.